Shell Ecopack

: smart, easy & safe oil dispending
Shell EcoPack delivers a smart, easy to use solution to storing and dispensing oil in your workshop
The Shell Helix branded stand stores 5 x 20 litre EcoPacks providing more choice with simultaneous access to multiple grades of oil which will allow you to use the correct oil in every service.
The Shell EcoPack is unique in its design, leading the way with technology to meet customer needs and market demands.
Shell EcoPack allows you to easily store, manage, select and dispense oil, in a financially friendly way, using Shell's industry leading, exclusive design concept.
Less storage space needed
Quick and easy
Less waste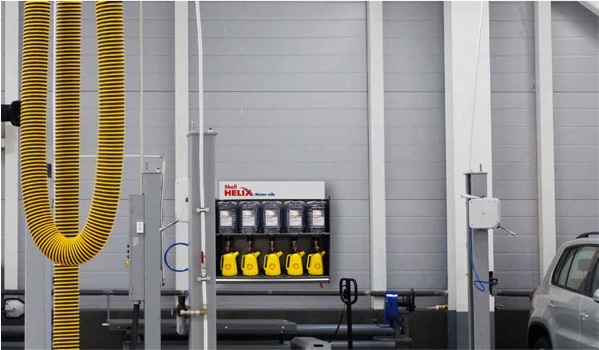 SHELL ECOPACK IS AVAILABLE IN THE FOLLOWING QUALITIES:
Shell Helix Ultra ECT C2/C3 0W-30
Shell Helix Ultra ECT C3 5W-30
Shell Helix Ultra Prof. AF 5W-30
Shell Helix Ultra Prof. AP-L 0W-30
Shell Helix Ultra Prof. AP-L 5W-30
Shell Helix Ultra Prof. AR-L 5W-30
Shell Helix Ultra Prof. AV-L 0W-30
Shell Helix HX8 ECT 5W-30
Advantages for your workshop:
More Choice: With easy access to multiple Shell Helix Ultra grades, you can dispense any oil at any time.
Quick and Easy: Shell EcoPack takes only 43 seconds to dispense 5L and with the jug in position you are ready to fill up in no time.
Storage: The space saving stand eliminates shelf and pallet storage giving you more space within your working environment.
Less waste: Each EcoPack has its own measuring jug which comes with an easy to pour spout. The tap also means nothing is left in the bottle.
Safety: Much lighter, easy to handle packs 20L Vs 55L which reduces the risk of injury. The stand is also equipped with a drip tray to catch any spills making it easier to dispose of waste and reduce risk of slips and falls.
Disposal: EcoPack bottles can be crushed by just standing on them with more space for waste removal. No need for barrel uplifts.
Kaj Christensen Automobiler A/S, en del af Bosch Car Service
"Ikke blot som Subaru forhandler, men især også som Bosch Car Service værksted kan vi nu servicere alle bilmærker. I den forbindelse har vi haft lejlighed til at teste EcoPack fra Shell og er overordnet meget tilfredse med løsningen. Tilbagemeldingen fra mekanikerne er, at det er enkelt og effektivt at bruge og det er tilmed en flot løsning som pynter på værkstedet.
Med EcoPack løsningen har vi adgang til alle de olier vi har brug for på en billig og milijøvenlig måde, idet vi nu ikke behøver at have tromler stående eller fremskaffe olie med de rette specifikationer til hvert eftersyn. I stedet kan vi nøjes med at bestille 20 liters dunke til at dække nogle af de bilmærker, som har brug for mere specialiseret olie. På denne måde sparer vi tid og penge, som også kommer vores kunder til gode"
EcoPack

brochure

Download vores PDF brochure med EcoPack produktet.